Factsheet
---
Developer: Imagination Rabbit
Based in the imagination realm

Release Date: September 22nd 2020

Platforms: PC

Website: NightmarePuppeteer.com

Press Release 1: Nightmare Puppeteer Press Release 1

Press Release 2: Nightmare Puppeteer Press Release 2

Press Release 3: Nightmare Puppeteer Press Release 3

Steam Page: Nightmare Puppeteer on Steam

Instruction Manual: Manual Link

Official Video Tutorials: Video Tutorial Link

Regular Price: $9.99 usd

Development time: Approximately 5 months

Budget: < $1500 usd

More Information: Public Github Repo
Videos
---
Trailer: Youtube link
Flashdance by Nightmare Puppeteer: Youtube link
Snakes on a Plane by Nightmare Puppeteer: Youtube link
Youtube in the Future by Nightmare Puppeteer: Youtube link
The Black Lodge by Nightmare Puppeteer: Youtube link
A 5 minute music video by Nightmare Puppeteer: Youtube link
Logo Images
Download all images as a Zip file: Press Images
---
Nightmare Puppeteer logo 1
Nightmare Puppeteer logo 2
Nightmare Puppeteer: Make Everything Stranger
Nightmare Puppeteer box art
Nightmare Puppeteer box art 1
Lights, camera, nightmares
M dot Strange Logo
Imagination Rabbit Logo
Request Press Copy
---
Please fill in your e-mail address below to complete a request and we'll get back to you as soon as a press copy is available for you.
Nightmare Puppeteer Credits
---
Concept, Design, Development, Code, Art: M dot Strange

Made in: Unity 2017
Made using additional Unity tools: - Playmaker, Behavior Designer, Final Ik, Puppetmaster, Trilib, Simple File Browser, Hx Volumetric Lighting, XD Paint, Dynamic Bone

Animation source: Mixamo

Promotional art: Kool Skull

QA Team: Tony Ikonen

Additional set modeling by: Spooktergeist

Animation Conversion team: Jo Fridman, Michael Biggs,

Body/Head/Prop making team: FODCOM, Tedd G., Jesse Force, Skarmuse, Jo Fridman, Tony Ikonen, J.Krinsky, Qush, Weevil, Ribcon, Lucid, Michael Biggs, Kiron, Spooktergeist, Susu2, GhostBooper

Painted Actor Faces by: Spooktergeist, Skarmuse, NikaFox, Tony Ikonen, Jesse Force

Youtubrrr voice clip team: J.Krinsky, Infamy_Dire, Rob Seale, Skarmuse, Tony Ikonen, Spooktergeist, Chris Jacobsen, Kool Skull
Description
---
A game that makes animations is the worlds first cinematic performance engine. Turn your keyboard, mouse and PC into a strange animation studio! Take control of the weirdest actors you can imagine as they speak with your voice and dance to your fingertips as you become the Nightmare Puppeteer! MAKE EVERYTHING STRANGER!
History
---
Imagination Rabbit's on staff professional weirdo M dot Strange has been making animated films for 15 years. In 2007 his animated feature film "We are the strange" premiered at the 2007 Sundance Film Festival and won the "most groundbreaking" film award at the Fantasia Film Festival in Montreal in the same year. In 2014 after making two more animated feature films he got bored of making animated films and started a new path into game development using the Unity game engine.

After making several small games and other interactive projects M dot decided to return to the world of film animation and began to work privately on a huge interactive project in 2019 designed to make animation film studios obsolete by replacing every aspect of animation production with algorithms. He built a prototype that worked but it badly needed optimization.

Since he was still in production on a third person platformer entitled "Nightlight Sonata" he decided to put the big interactive project on hold until he finished Nightlight Sonata.

The large interactive media project contained a "performance module" which was already working and completed. The performance module was inspired by Strange's own previous project "Weirdro" which can be found here

For fun, M dot built out the performance module in a few days to make some quick animated videos for youtube, the first one which can be seen here

After realizing how quick, easy and fun the standalone performance module was to use he decided to build it out as a separate project titled "Nightmare Puppeteer".

Acting as both programmer and artist M dot Strange created Nightmare Puppeteer alone as M dot Strange is Imagination Rabbit.

Nightmare Puppeteer introduces a new type of creative tool into the world in the "Cinematic Performance Engine" It is a tool that could only be made and designed by a one man army animation filmmaker turned game developer.

It is a tool that is designed to allow anyone, regardless of experience level to easily make the strangest animations in the world, and have fun doing it.

Nightmare Puppeteer is made using the Unity game engine.

Nightmare Puppeteer would have not been possible to make in such a short time (4 months) by a single developer if it wasn't for the Unity asset store, Mixamo animations, Make Human, Adobe Fuse and the abundance of tools made by other developers freely available on Github.
Features
---
Keyboard Puppetry System- using a normal computer keyboard you puppeteer your actors, control the cameras, lights, even time itself and more!

Shut The Hell Up Auto-magic Lip Sync System- Actors will never stop talking using the recorded voices you add or use a live mic instead!

Full Steam Workshop integration- Share everything including custom scenes made with the level editor, voice files, custom actors + more!

Twitch Mode- enable Twitch mode to allow the chat to control the actors, cameras and even adding images, text and even video!

HKLR Visual feedback system- taking visual feedback to a new level! Like what you see? Throw a heart! Hate it? Throw mud! + more(Only available in Twitch mode)

Youtubrrr- add a randomized ai Youtubrrr to commentate on your scenes, our ai Youtubrrr's are much more interesting than biological ones.
Gameplay Images
Download all images as a Zip file: Press Images
---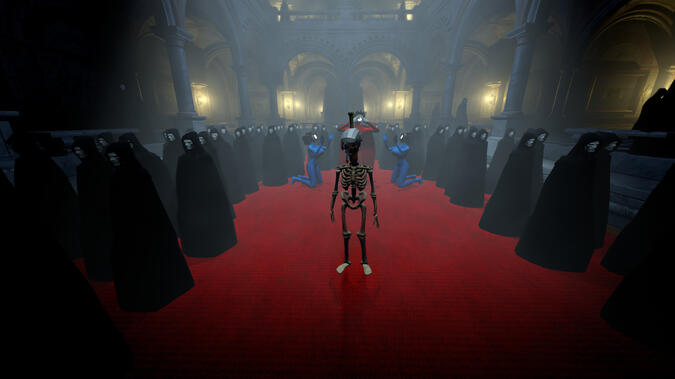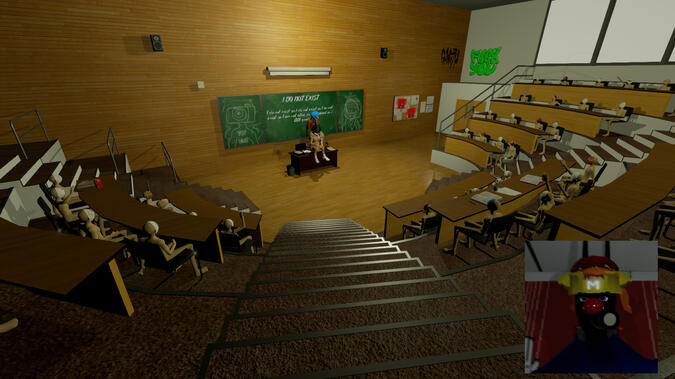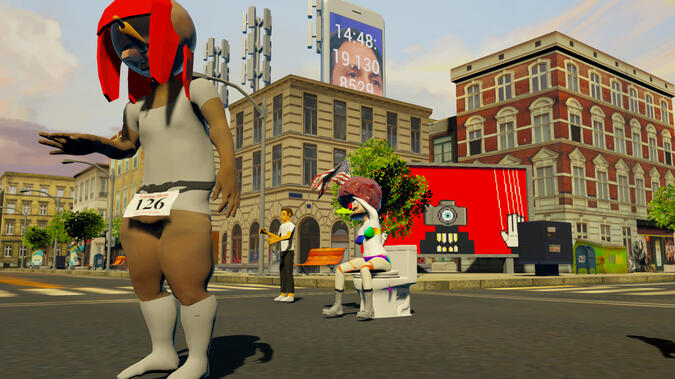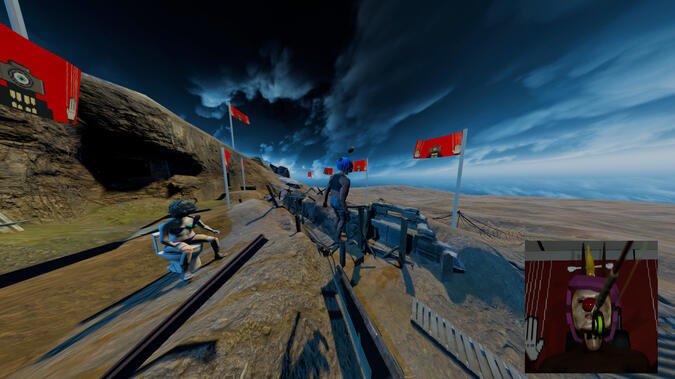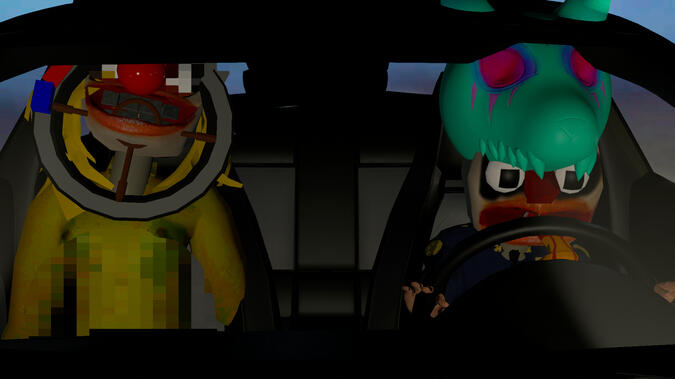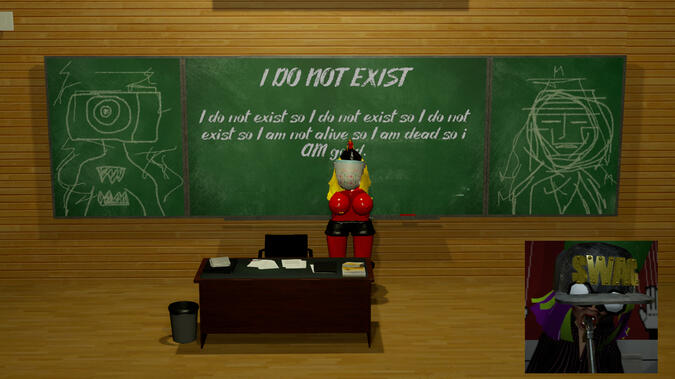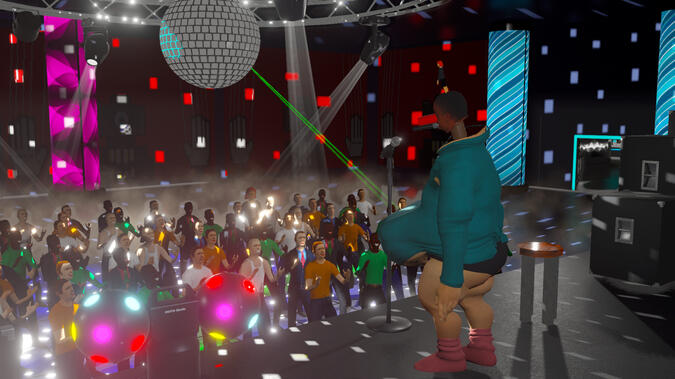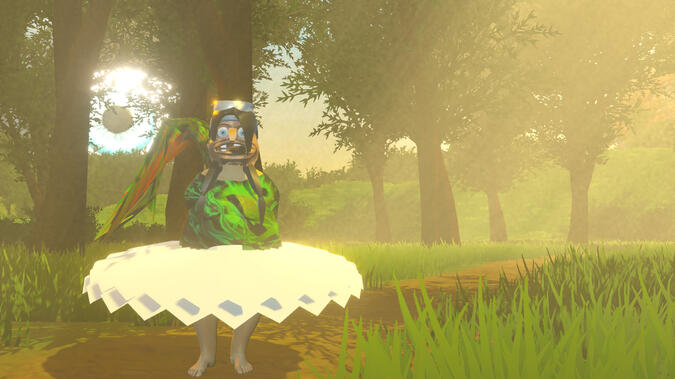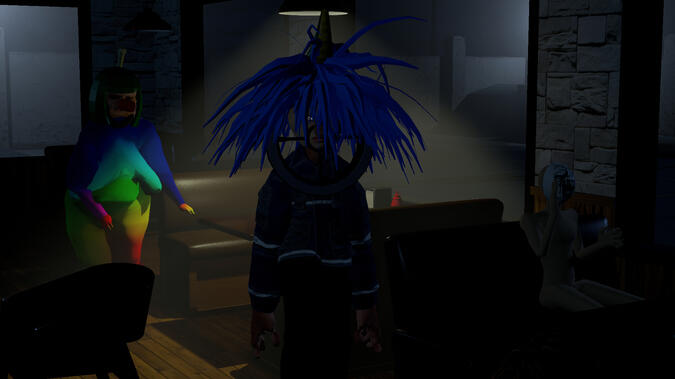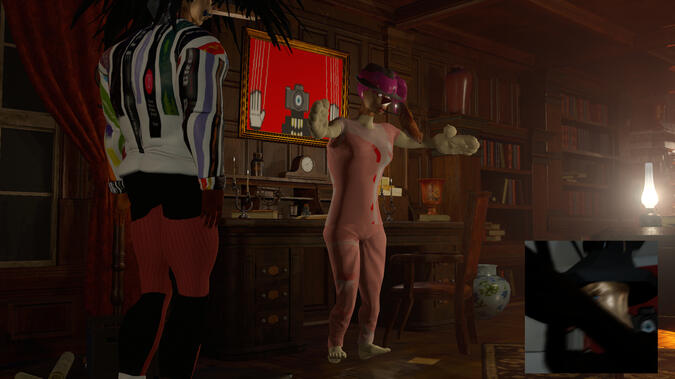 Monetization Permission
---
Imagination Rabbit allows for the contents of Nightmare Puppeteer to be published through video broadcasting services for any commercial or non-commercial purposes. Monetization of videos created containing assets from Nightmare Puppeteer is legally & explicitly allowed by Imagination Rabbit.
Contact
---
Contact Imagination Rabbit's professional weirdo on staff M dot Strange using the information below.